Click Here To Book Your Fitting Appointment
Services By Dream Dress For Less
Dream Dress For Less
Alterations
It is very important, on your special day, to look beautiful and have a perfectly fitted dress. Our experienced alterations team will provide the necessary adjustments to make this possible.
Dream Dress For Less designs and alters all types of woman's dresses and gowns. We specialize in wedding gowns, bridesmaids dresses, prom dresses and formal dresses. We treat each stage of the alteration, or design, with the importance it deserves. So as a result, you can relax with confidence that your dress will be finished on time, pressed and ready for your special occasion.
We also provide alterations for dresses bought in other stores or online. Men's and Ladies clothing alterations are also welcome, including leather and suede.
AIt is important to time your alterations right. We recommend to contact us as soon as you bought the dress and book an appointment for consultation. By the way all consultations are free!
According to your personal circumstances (loosing weight, pregnancy etc.) we can start part of the alterations right away. The final fitting can be postponed to a few days before your wedding or special occasion. In some cases, alterations could be done in as little as 2-3 days. Please keep in mind that the amount of time you need depends on how much alterations need to be done to your gown. On average, most brides need two to three fittings.
Make sure you bring your shoes for your first alterations appointment. Hemming needs to be very precise because you don't want to trip over your dress on your wedding day!
Before bringing your special undergarments, consult us with what you have in mind. Your dress may be fitted in a way that will save you from purchasing special bras or corsets.
Please bring your hair accessories or veil with you as it will be easier to envision your overall wedding day look. We also have accessories for sale if you are thinking of purchasing some.
Dream Dress For Less welcomes your bridesmaids, relatives, or friends to accompany you to your fittings, because another set of eyes, or opinion, is always good.
Because your maid of honour will need to know how to create the bustle, it's a good idea to bring her to your last fitting so she can learn how the gown works.
Click Here To Book Your Alterations Appointment
Dream Dress For Less
Custom Designs
There are many reasons to get a custom-made wedding dress. Maybe you just can't find your "Dream Dress". Whatever the case may be, we will guide you in a more flattering direction and help you create your Dream Dress For Less.
We will work with you to show how you can transfer the dress in your mind to the dress you will wear on that special day!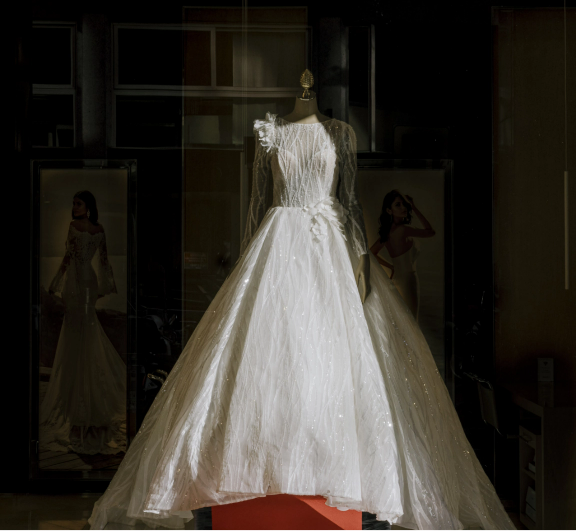 We will begin with a private consultation. Bring us a scrapbook, design, idea, or just describe the dress you like. We will then sketch it for you to review. After that, you will look through samples of bridal fabrics and we will help you to choose the right one for your wedding gown.
Our bridal store can custom make any type and style of dress for you. In other words, we can make you a dress for a wedding, graduation or for a special event. We have a passion for altering and designing custom gowns and dresses. We enjoy the hours we spend making dresses that are as unique as the woman wearing it. There is no charge for this consultation.
Click Here To Book Your Appointment
Dream Dress For Less
Cleaning, Pressing and Steaming Services
Our bridal store offers professional dry cleaning services for your wedding gown, prom or graduation dress at discounted prices. Please consult with us before rushing to a dry cleaner, your dress may only need a spot cleaning.
Our team has long experience working with delicate fabrics like silk, chiffon, bridal satin's, tulle, etc. Because of this, we can provide professional pressing and steaming of your dress.
Click Here To Book Your Appointment
Dream Dress For Less
Crinoline Rentals
Our bridal store offers a variety of crinolines for rent.
You can easily change the silhouette of your wedding gown, prom and gala dress. Without spending a fortune for alterations, you can simply wear the crinoline (petticoat) under your dress.
"
The charge for the crinoline rental is $40 + tax. This price includes all necessary adjustments and the cost of dry cleaning. Our consultants will help you to choose the right size of crinoline for your dress. Our alterations department will make sure your crinoline fits you properly at no charge.
"